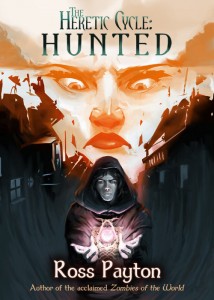 When adventurers raid the dungeon of an immortal sorcerer known as Akil, he realizes he has to flee before the inquisitors find him. A heretic, thief and killer, Akil lives only for the next scheme to enrich himself and his personal code. To escape, he'll have to deal with the border guards, patrols and other threats. With only the clothes on his back and a magical sword, he'll be hard pressed to survive the hunt.
The Heretic Cycle is a new fantasy serial from author, podcaster and game designer Ross Payton. Follow the saga of a villain who builds dungeons, fights parties of adventurers and performs forbidden magic; a man damned by his choices and must wander the world alone for a crime that can never be forgiven.
Available at Amazon and Smashwords (for all other ebook formats).